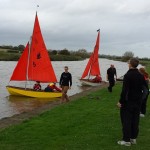 We sail at Tewkesbury Sailing Club, The club is set on the River Avon just north of Tewkesbury.
We sail Mirror Dinghy's and Kayaks.
Address: Tewkesbury Cruising and Sailing Club
Trafalgar Road
Tewkesbury
GL20 5FN
Our qualified Dinghy Instructors are Dave Bunce and Jack Chapman
Our qualified Kayak Instructors are Dave Bunce, Jack Chapman, Sheena Bunce and Jade Crane.
All queries are to be sent to Dave Bunce (Water Coordinator/ Scout Leader) – Sailing@15thgloucesterseascouts.co.uk
The cost is £7 for 15th Members and £10 for all others for a morning or afternoon session (approx 2.5 hours). The cost goes towards the fees for the club, insurance and maintaining the boats/ equipment.
Children will need to bring a change of clothes, a towel and a named bag to put wet clothes/ gear back into, water shoes are also recommended and a windproof jacket is essential on colder days. It is best if they have a wetsuit but we understand if they do not. NO Jeans or Crocs are permitted.
All young people over the age of 9 years old and are competent (can swim 50m in a buoyancy aid) swimmers will be able to come along and sail/kayak.
Unfortunately at this time we are unable to take non-swimmers for safety reasons.